What is IPC Standard?
For everyone working for electronics and PCB assembly maybe all have a confuse whether there is a standard to ensure the quality of my products and if there are phrases used commonly in this industry. What can settle all the question above is the IPC Standard.
So what is IPC standard and where is it from? Is there any benefit by using it? And what should I know for my electronics works? Now let's discuss this standard in detail.

1.
Where is the standard from?
Before we understand IPC Standard, we need to know first is who sets the standard. It comes from IPC association, a trade association whose aim is to standardize the assembly and production requirements of electronic equipment and assemblies. It was founded in 1957 as the Institute of Printed Circuits. Its name was later changed to the Institute for Interconnecting and Packaging Electronic Circuits to highlight the expansion from bare boards to packaging and electronic assemblies. In 1999, the organization formally changed its name to IPC with the accompanying tagline, Association Connecting Electronics Industries.
From the history of IPC association, we can know briefly that IPC Standard has included the requirement of electronics during manufacturing and assembly.
2.
What is IPC Standard?
IPC standards, is the most widely recognized acceptability codes in the electronics industry. The organization publishes standards for nearly every phase of the electronic product development cycle, including design, purchasing, assembly, packaging and more.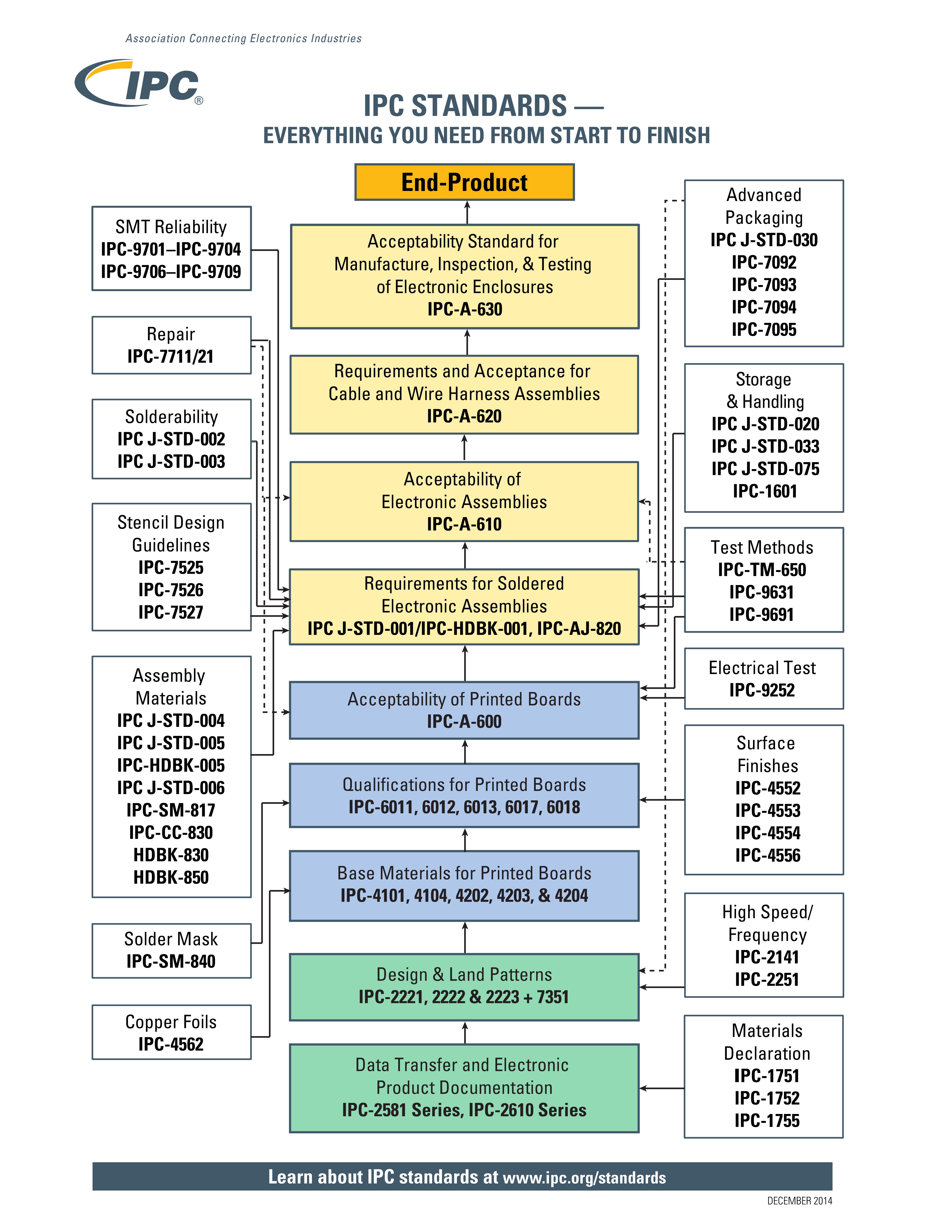 So another thing we can know from the introduction above, is that IPC Standard refers to everything in electronics industry, both for designers and manufacturers.
Like the picture of IPC Standard Tree, there are so many standards set for different aspects and all of them are serving for the end products. For example, IPC-A-610, mainly for the acceptability of electronic assemblies, is used worldwide by original equipment manufacturers and EMS companies.
3.
What is the benefit of IPC Standard?
After viewing the IPC Standard Tree, some friends will refuse the standard because of its baldness, complexity and trivialness. We can't think like this and we must be aware of its benefits.
(1)
Quality Assurance and Reliability
As we have talked before, IPC Standard involves everything for electronics, like IPC-A-600 for the acceptability of printed boards. And even it lists the material requirement of copper foil, solder mask and stencil design, respectively expressed in IPC-4562, IPC-SM-840 and IPC-7525, 7526, 7527. Because it build the standard from all aspects as long as they are used in the production process of electronic products, manufacturers only need to do is following the standard and strictly enforcing it so that the product quality and reliability can been guaranteed naturally.
(2)
Easy to Communication.
IPC Standard is the widest used term in electronics industry, and it has described and displayed almost all engineering questions. Just like common C language applied in computer industry, IPC standard has a similar status in the electronics industry. Because of the extensive use, everyone can understand each other well and can ensure the barrier-free communication.
(3)
Guarantee Production Smoothly.
Generally, every manufacturer has set up their own production and quality standard based on IPC Standard, and all production line workers have been trained with technique knowledge, thus the workers in every position can understand and obey the production guidelines basically. As for all managers, they are professionally educated with IPC Standard and have experienced so many projects during their career. From all aspects above, all of production processes are operated by experts and tested against IPC standard all-round, which can guarantee the production going smoothly.
(4)
Cost Saving.
Because of its wide application and acceptance, engineers and designers know how to test the finished products and manufacturers know they must meet the basic standard and achieve the agreed special standard. Almost all companies have set QC departments and all employees understand deeply what the products should be. For the consensus and mandatory, we do not need to try so many times to know which kind of material is suitable, which can avoid too many attempts and save a considerable amount of money.
(5)
Brand Effect.
Influenced by the depressed market conditions, we always explore something new and extend our supplier network. But we are also nervous about the qualification of new suppliers and we are not sure if they are reliable. Suddenly, we know that they establish their quality management system according to IPC Standard. In that case, we will calm down and think that it can be promoted for new opportunity. That is the brand effect brought by IPC Standard, which can achieve the strategic target and create the win-win situation, more businesses for suppliers and better competitiveness for buyers.
4.
What
is the essential term of IPC Standard as a PCB&PCBA manufacturer
?
Before we answer this question, we must understand the necessary processes to produce a PCBA. PCBA, abbreviation as Printed Circuit Board Assembly, is a electronics product or production process by placing components onto bare board or PCB. The main technology used is SMT and DIP. During the whole production processes, almost all of IPC Standard have been applied. For example, the stencil design and the materials used in SMT both have their corresponding standards.
As the definition from IPC Standard, PCB has been divided into three levels.
lClass 1, is the primary standard, which means PCB are normal with the shortest service life and the simplest function.
lClass 2, stands for service electronics or dedicated products, which of high performance, high reliability and long life.
lClass 3, usually equals to high performance electronics, which are used in special industries like military, medical and aerospace.
In addition to the division of different product levels above, due to the complexity and diversity of PCB assembly, it's the basic behavior to ensure product quality. Thus, we are here to make a promise to ensure the quality as follows:


As our mission of "to be the preferred intellectual manufacturer of electronics circuit", Shenzhen PCB ELECTRONICS LTD cherishes every partner and is committed to comply with IPC Standards of quality and other special requirement from partners. We aim to support you with the quality guaranteed PCB and PCBA whenever you need.
We are open-minded to hear about your idea of IPC Standard or any other question about PCB and PCB assembly.